Affiliate Disclosure: We may earn commissions from purchases made through links in this post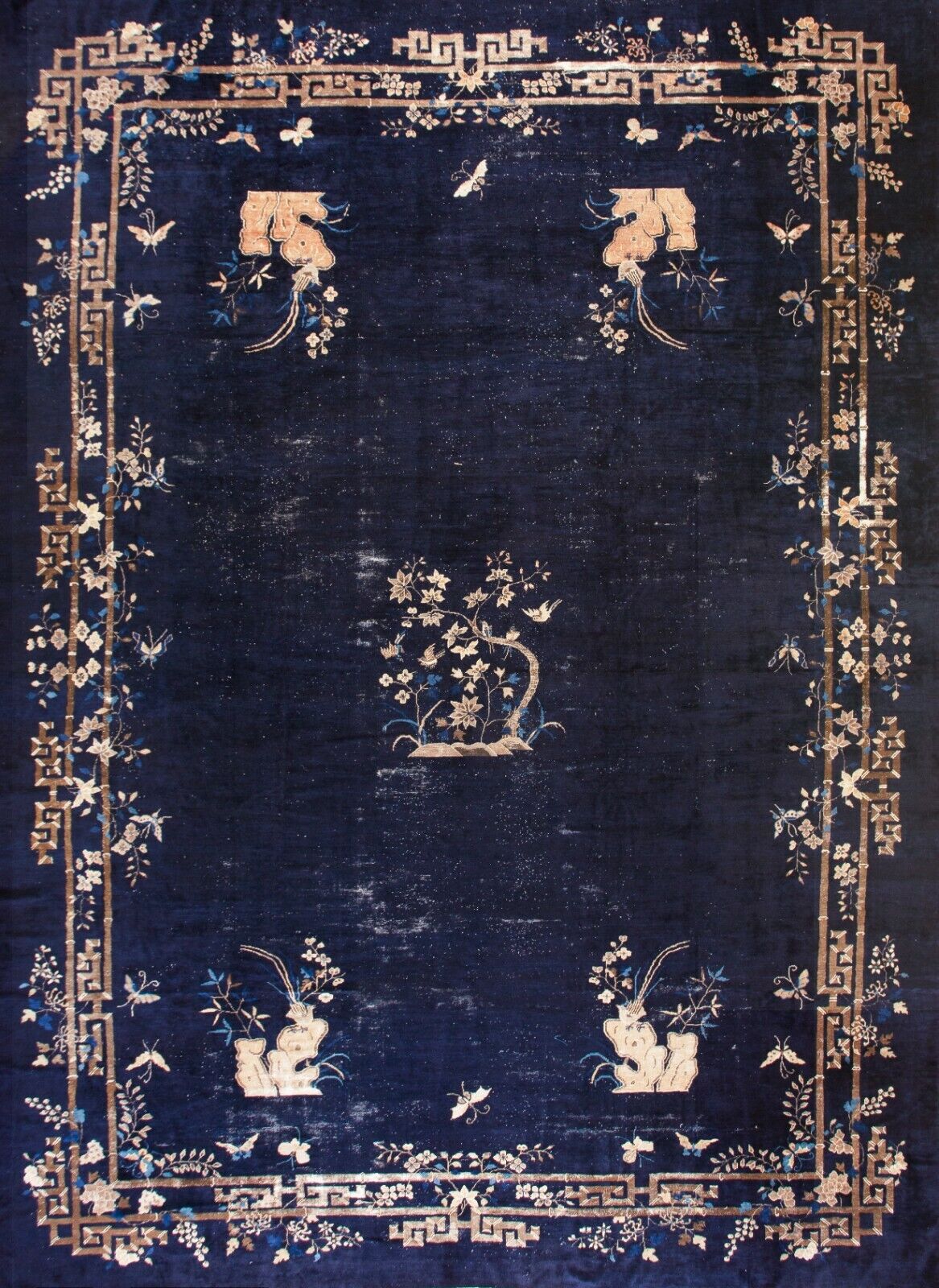 Rare Antique Peking Chinese Fine Art Deco Rug Museum Quality Blue 13×18 c.1870
Rare Oversize Antique
 Peking Chinese Art Deco Rug 
Museum Quality
Blue 
12'8″ x 18′ 
Circa 1870
"THIS RUG IS EXQUISITE!!!  It is a rare oversize Antique Chinese Peking Art Deco rug with a beautiful Butterfly geometric design. The fine weave, the fabulous blue background color, and  the ©"Shabby Chic thin Pile make this rug a true show piece!  

This incredible and unusual Antique piece is a fine example of the art of  Ancient  Chinese rug weaving- a Great Buy and a Fantastic piece to own!"–DCR
~FREE  Consultation with RUG EXPERT!~
LETS HELP YOU CHOOSE THE PERFECT RUG!
Description:
This genuine hand knotted Antique Chinese Rug by Designers Choice Rugs is a rare decorative piece.  With a Beautiful  Butterfly Art Deco design,  this rug portrays an exquisite opulence.
This rug is originated in China in the city of Peking.  This area was known for its intricate workmanship allowing 100 % Hand Knotted  high quality wool.
 The creation of this rug involves many processes, including spinning, weaving, washing, trimming, and finishing, all done by skilled weavers. Known for it's durability and strength, this luxurious rug displays a magnificent quality.
Perfect for traffic area as well as a decorative piece!
Size

12'8″ x 18′

Serial ID #

40974k

Design

Rare Peking Art Deco, Butterfly

Origin

China

Age

Circa 1870

Category

Antique

Pattern

Rare Geometric, Butterfly

Material

100% Hand knotted wool

Foundation Material

Cotton

Color

Blue, Navy Blue, Ivory, Gold, Beige, Gray, Medium Blue

Quality

Very Fine

Condition

©"Shabby Chic
thin Pile." 

Good Condition considering Age and History, worn areas

Retail Price

$16,000

Our Price

Please check our listing for discounted price
History
Chinese rugs are easily identified compared to traditional Persian rugs, due to the unique characteristics found in Chinese rugs.  The Chinese rug-making history is somewhat ambiguous, without a clear idea of who influenced the origins of rug making in the Far East. What is known is that traditional rug weaving was first found in China in the Northwest Territories as early as the 1500s and the designs were largely influenced by Buddhist and Taoist symbols.  
The rich Chinese culture is depicted in their weaving, and unlike the traditional Persian rug, the symbols and colors all have specific meanings and intents.  In the late 1800s a monk from the Northwest Territories of China moved to Peking (Beijing) and set up rug weaving schools to help the poor earn an income.  The weaving style was much like what was being done in the Northwest, utilizing the same symbols and designs.  These factories were successful and started producing the first Peking rugs.
FREE SHIPPING, HANDLING AND INSURANCE TO ANYWHERE IN THE USA
---
We want you to treasure your purchase!
RETURNS ACCEPTED WITH OUR APPROVAL WITHIN 14 DAYS OF RECEIVING THE RUG
Feel free to message us with further questions.  We are happy to help!
About Us
 We are proud to be an established 5th Generation Family Business. Our ancestors have been known for being reputable entrepreneurs throughout the world in places like Europe, Asia, and the United States. We have had expertise in the Rug Industry in the USA for more than 40 years.
We have had many locations across the U.S. including New York, New Jersey, Minnesota, Tennessee, and Missouri.
Our main goal is to achieve customer satisfaction. We want our clients to love their purchase as well as our service.  We love communicating with you regarding any questions or comments!
If you are looking for a specific color, size, or Rug Type, Please feel free to send us an inquiry and we will do our best to find you the perfect match!
Rare Antique Peking Chinese Fine Art Deco Rug Museum Quality Blue 13×18 c.1870