Affiliate Disclosure: We may earn commissions from purchases made through links in this post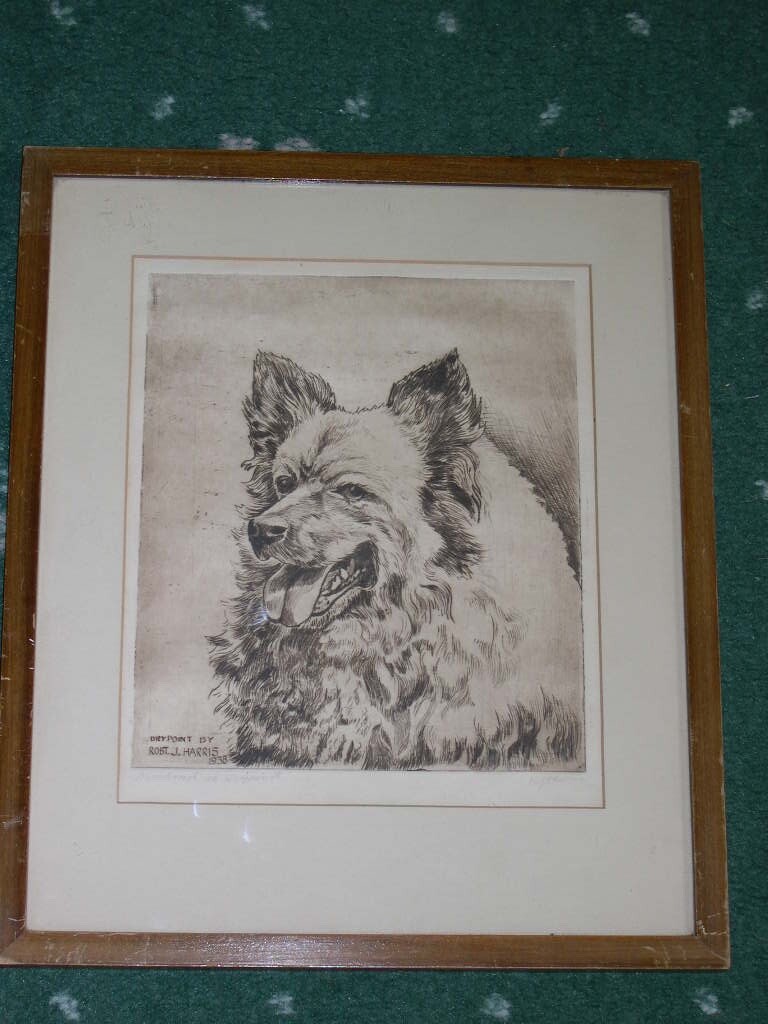 RARE ANTIQUE KEESHOND DOG SIGNED LTD ED DRYPOINT ETCHING 1938 BY R.J. HARRIS
This is an original signed in pencil limited edition drypoint etching featuring a head study of a Keeshond, in its original frame and backing overall size including frame approx. 13″ x 10.5″ in very good condition, signed in the image "Drypoint By Robt. J. Harris 1938", Further signed in pencil by him bottom right and titled in pencil by the artist bottom left "Keeshond In Drypoint". Further inscribed to the rear "June 1948, I Hope This Picture Will Always Be A Bond Between Us And That It Will Always Bring You Luck Because It Has A History Behind It, Winifred"
 UK postage is GBP 6.00
Overseas airmail postage is $29.00
Insurance is $12.00 extra if required
Oversea's Buyers
We accept the following forms of payment
PayPal .. US Personal cheques
UK Buyers
Will be notified with a Sterling conversion at the end of auction.
We accept payment by
Paypal …Sterling cheques ..
We are happy to combine shipping if you win more than one item
PLEASE NOTE – We will not be responsible for the safe delivery of items sent uninsured and these will be shipped at the bidder's risk.
If you have any questions please email us and we will do our best to help. Thank you and good luck with your bidding.
********************************************************

RARE ANTIQUE KEESHOND DOG SIGNED LTD ED DRYPOINT ETCHING 1938 BY R.J. HARRIS