Affiliate Disclosure: We may earn commissions from purchases made through links in this post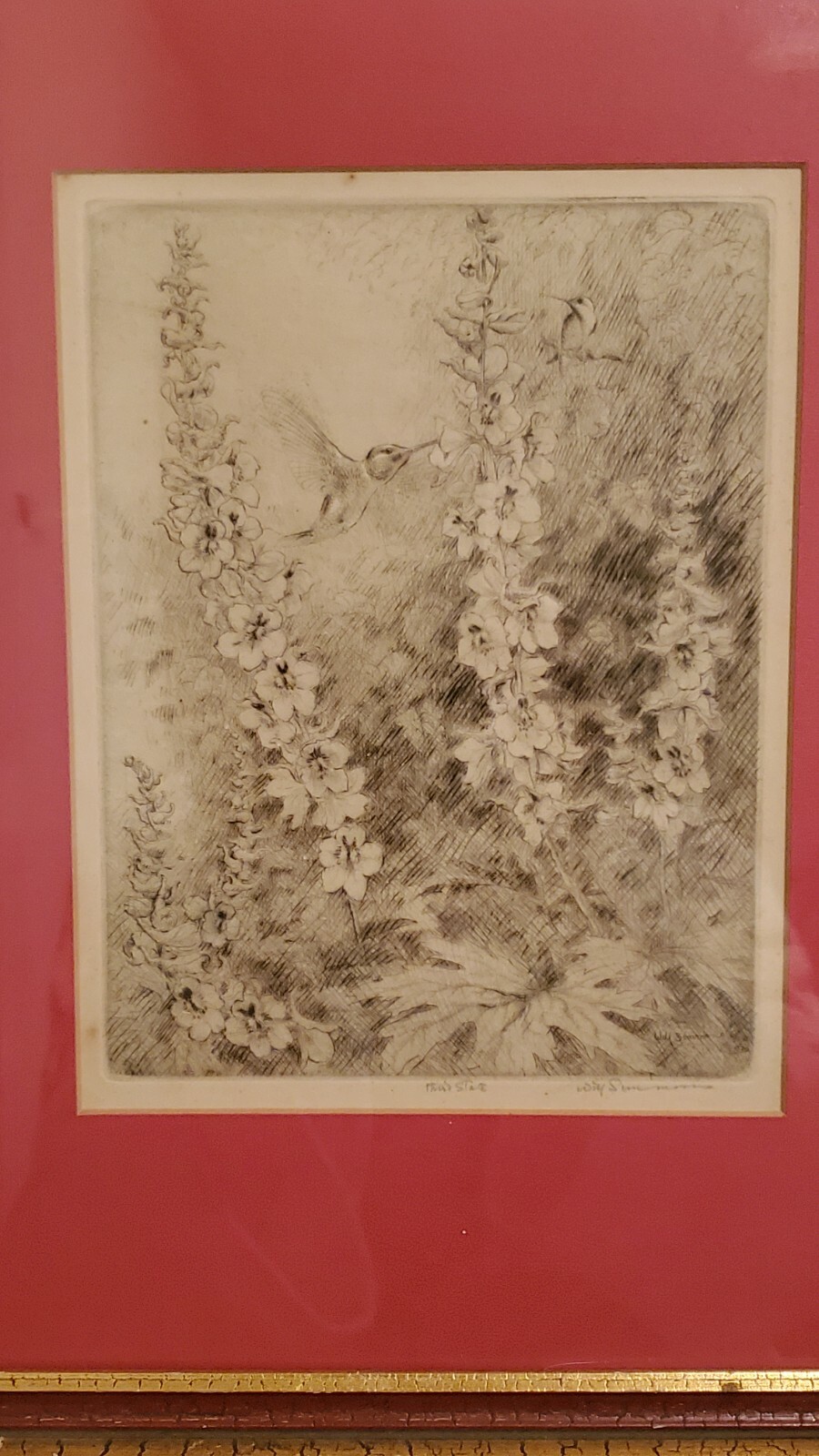 Rare Antique Etching by Will Simmons First State Signed Museum Piece All Orig.
An Original Authentic Etching by Artist Will Simmons.
Will Simmons was a well-recognized/noted artist and Master Engraver with the majority of his work residing in The Smithsonian in Washington.
Will Simmons (1884-1949) was also the son of noted Artist Edward Emerson Simmons (1852-1931) who was one of the original Ten American Painters of the 19th Century and First Cousin of Ralph Waldo Emerson.
Listing is for an Original Authentic Etching by Will Simmons and of The Period.
Signed by the Artist in the plate along with what appears to be his production run date. Signed and annotated "First State' in pencil in the lower margin areas.
Note: His First State images are pre production of the run = similar to a 'First Edition' of a Book or "Preview Edition" of a Book before it's Run for Production = is the best way I can describe it.
Beautiful Image, Depicting two Hummingbirds amongst tall stalks of Flowers.
Will Simmons did the majority of his Etchings in the 1920's. Images by Will Simmons do not come up often, and "First State" images of his Editions are even more difficult to acquire.
In its early frame and matting – label on the back is 'pre-area code' so framing was done prior to 1947. Frame is a Gesso and Wood Frame = chipping to the Frame, one corner of Frame is slightly loose = However whomever buys this piece, will buy it for the Engraving not the Frame.
I removed the Top section of the Paper in the back as shown. Etching has not been removed from the Frame.
Piece comes from my personal collection and has been in a Clean, Dry, Smoke Free Environment and not exposed to light. I've owned this piece for over 20 years.
Very small areas of Foxing in the outside margin area. I'm assuming due to its original matting and framing and that it probably should be reframed with acid free products.
No issues that I can see within the image = I've looked closely. Truly a nice clean piece. It's a Beautiful Example of his work and Will not disappoint.
Frame Measures 12 3/4″ inches x 15″ inches. Image size is approximately 5 3/4″ inches x approximately 7 3/4″ = excluding the outer margin.
Ask All Questions Prior to Bidding and use the zoom feature, as the Photos are also part of the items description. Smoke Free Environment.
Payment Via PayPal. Payment expected within 3 days of Auction Ending.
SHIPPING:
DOMESTIC USA ONLY
NO INTERNATIONAL SHIPPING AT THIS TIME.
Shipped with USPS Priority Mail, Tracking and Insured, with Signature Confirmation.
NOTE: I only ship on Saturdays. If you need the piece sooner message me first, however with Priority Mail, items due arrive quickly. But again, please note I ship on Saturdays. If I can ship sooner I will. Thank you.
Thank you.
Rare Antique Etching by Will Simmons First State Signed Museum Piece All Orig.