Affiliate Disclosure: We may earn commissions from purchases made through links in this post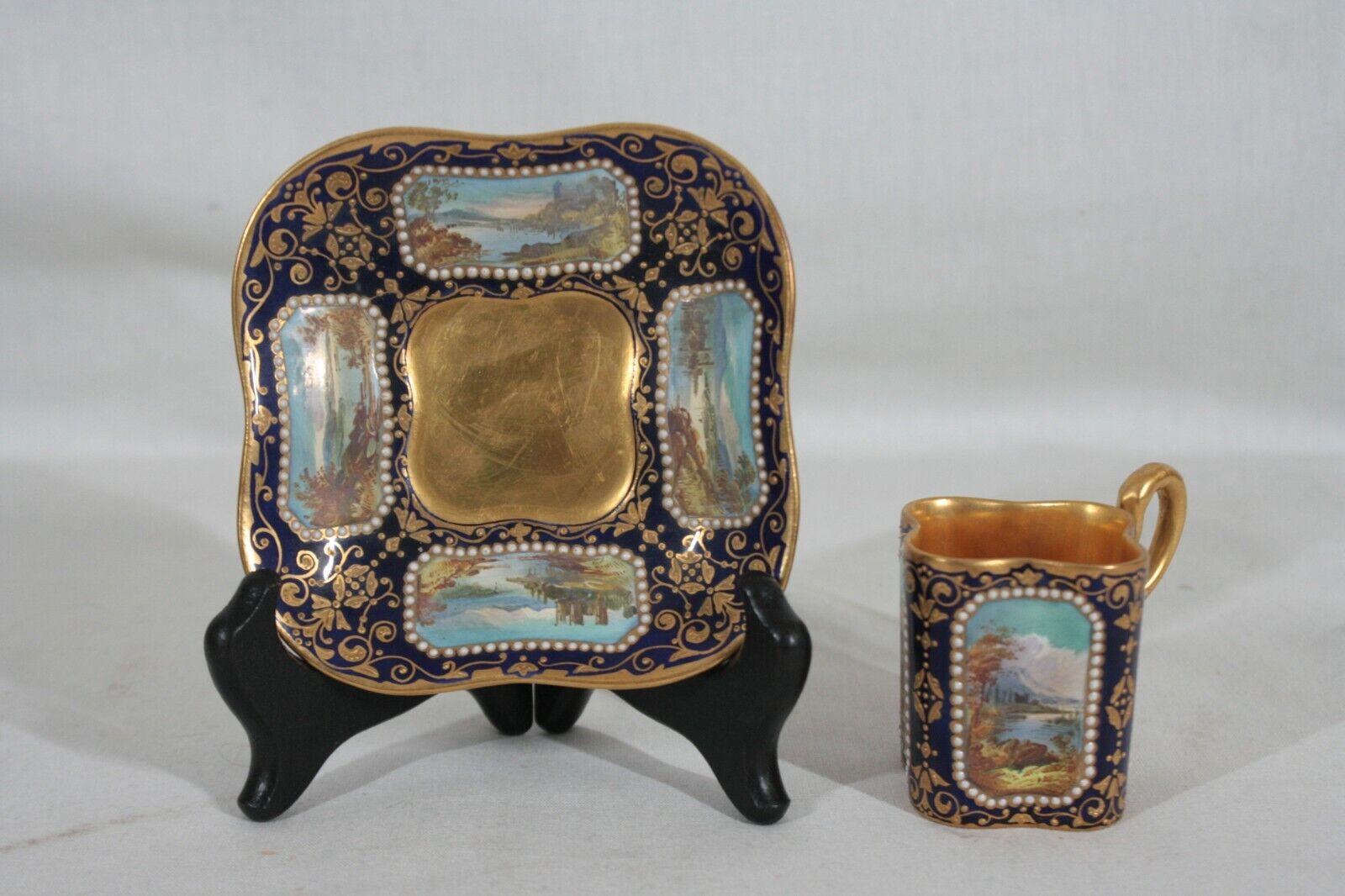 RARE ANTIQUE 1880s COALPORT SPAULDING & CO HANDPAINTED DEMITASSE CUP & SAUCER #4

Exquisite

Museum Quality
Extremely Rare!!

Antique

Coalport China

designed for

Spaulding & Co.

Chicago

Heavy Gilded

Hand Painted

Demitasse

Cup and Saucer

Set


Both Cup and Saucer have
raised beaded jewels surrounding
a total of 8 Miniature
Hand Painted Scenes as well as
small jewels all over the cup & saucer.
These are the most exquisite
cup & saucer sets
I have ever seen.
#1 of 4 Similar Sets
Made in England
Except for one small flake missing from
one of the scenes on the cup.
A few scratches where the cup sits.
Hand Painted Porcelain
Dimensions:
Cup:
2 1/4″ x 2 1/4: Square
3″ Width
2 1/2″ Height
Saucer:
4″ x 4″ Square

Made between 1888 and 1891

All cups are marked: B3436

Spaulding & Co., Chicago


was founded by Henry Abiram Spaulding in 1888.

After he served for 17 years as the representative for

Tiffany & Co in Europe based in Paris, Spaulding

sold his stock in Tiffany's and returned to Chicago.

During his time in Paris, Spaulding had associated with

many of the royal families of Europe and examined

many of their most important jewelry pieces.

He made extensive contacts with the makers of the finest

jewelry, gold, silver, and china wares in Europe.  He also

served as Treasurer of the American committee in Europe

to fund the Statue of Liberty.

Using these contacts Spaulding & Co immediately acquired

specially made luxury items from European manufacturers

double-marked with the Spaulding name

for the new company's opening stock.

In 1894 Spaulding left the firm and retired to Arizona

where he passed away in 1904 at the age of 67.

The firm, however, continued with his name until 1989.

Coalport China

adopted the mark on these pieces in 1881

and added the word England to the mark in 1891.

Truly Magnificent!!!!!
Don't miss this fantastic antique
Coalport / Spaulding Cup and Saucer set
to add to your collection.
3 pounds Shipping Weight
---
I have hundreds of unusual and discounted items.
Click here to visit my store and see my other listings.
---
BUYER'S NOTES 
Prompt Shipping!!
COMBINED SHIPPING:
We gladly combine shipping and share the savings.
If you are considering several items,
contact us for a combined shipping cost.
DOMESTIC US BUYERS:
We DO NOT offer "Free Shipping".
Buyer pays actual shipping & handling above bid amount.
Combine Items and Save!!
INTERNATIONAL BUYERS:
We will compute international shipping & handling charges on request before purchase.
Contact us before bidding.
Combine Items and Save!!
CUSTOMS POLICIES:
Customs Duties and Processing Fees are
determined and assessed by the Buyer's nation.
We will NOT mark purchases as gifts.
We will NOT understate values.
We will NOT mark new items as used.
---
RARE ANTIQUE 1880s COALPORT SPAULDING & CO HANDPAINTED DEMITASSE CUP & SAUCER #4